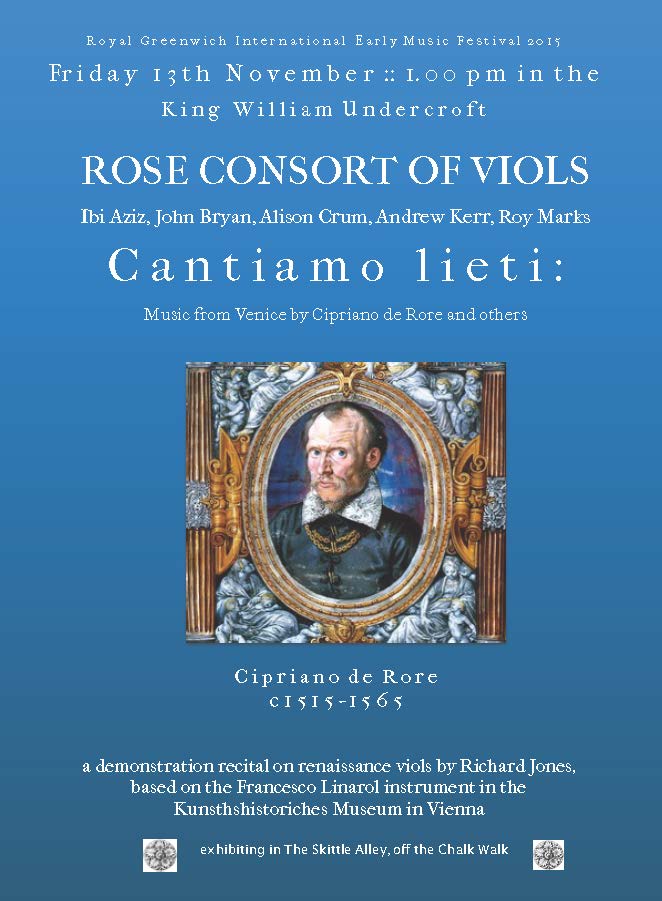 Delighted to share notice of this demonstration recital that was played at Greenwich
in 2015
' Serenissima'
a recent CD by The Rose Consort of Viols
released on the Delphian label
available from www.prestoclassical.co.uk/r/Delphian/DCD3414 and in iTunes
this recording is a wonderful showcase for the Linarol viols :: 'all the sizes in the world'
Treble; tenors in a and g; basses in d and A
'...it is the intensity of their listening, five musicians and a sound engineer, focussed on finding a perfect blend which yet lets the intricate parts speak, that is so striking. It is demanding and exhausting but by the end of the day deeply satisfying, food for the soul. Even we listeners are uplifted...'
from a diary entry :: Three Days in York - during which The Rose Consort of Viols recorded a CD on Richard Jones' viols.
Film made during the rehearsals for the recording :: NCEM York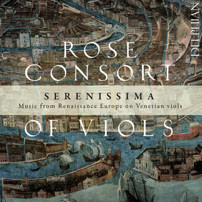 ---
Scottish Sycamore
Many of the viols I have made over the last five years have bodies made from a superb figured sycamore tree that grew near the Old Cement Works, near Dunbar in East Lothian, Scotland.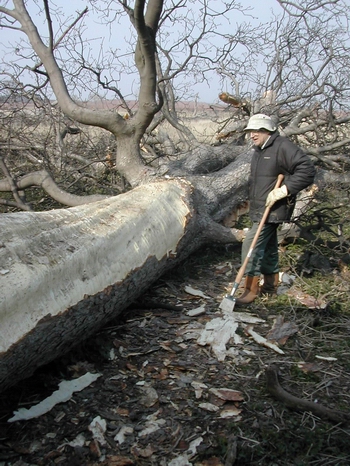 This is Ulrich Loening, my wood supplier, who travels all over Scotland in search of fine wood for musical instruments, standing by the Cement Works tree with a bark stripper. You can see the ripple in the trunk which gives the wild figures on the backs, necks, fingerboards and ribs of my instruments.
---
Early Music Courses
Our six viols go to early music courses at Durham. At Ambleside we have spent the afternoon playing with the very good singers who attend the course,after spending the morning coaching players new to renaissance viols. Sometimes these sessions seem too difficult, players trying a different instrument, sight-reading and making an ensemble can seem too much, but invariably, a sound comes and with it the smiles of pleasure that accompany accomplishment. The afternoon repertoire was four-part French chansons which sound very sweet and sad with viols and voices. This may be our last Ambleside because the course is moving to The Wirral which is too far to travel in a day.
NORVIS at Durham, much more intensively viol centred, was a day of introducing experienced players to the early viol in groups of 5 and 6 - players were willing to try playing an unfamiliar size of instrument, even the challenging A-bass which stands about 5-feet tall and calls for wide finger spans. We played all day from 11.00 am to 6.30 pm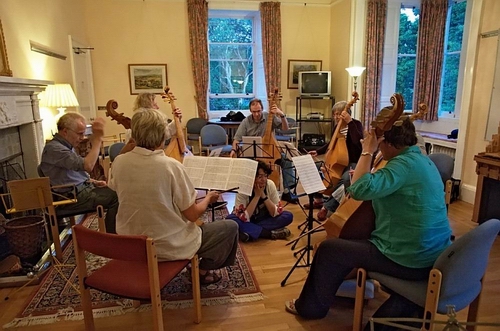 Di Sei Bassi
Netherurd House in the Scottish Borders - viol course with Alison Crum, Philip Thorby and Roy Marks. Ferrabosco I wrote a piece Di Sei Bassi, here played on three d-basses and three A-basses :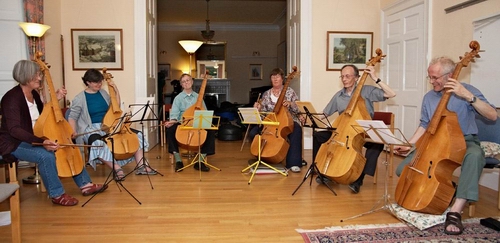 Vickie, Ursula, Els, Judith, Murray and Thomas playing 'Di Sei Bassi'
on six of Richard's viols - amazing deep sound......
Several RJ viols have been to Venice, where Francesco Linarol lived and made instruments. Some of them travelled in seats on the aeroplane alongside the players.
Richard Jones Renaissance Viols exhibit bi-annually at the London International Exhibition of Early Music at the Old Naval College, Greenwich. A 'music room' is set up in the basement Skittle Alley where viol players of all ages and abilities drop in to play in ad hoc groups throughout the three days of the exhibition. The weekend features demonstration recitals, master classes and concerts of early music as well as the exhibition of instruments.
Greenwich 2009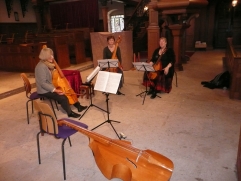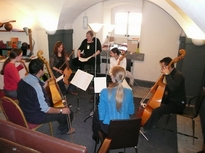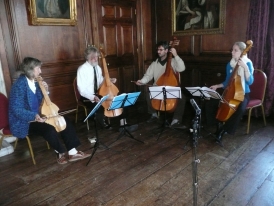 Preparing for a Master Class with Alison Crum consort of 6 in the Skittle Alley 'Very Perfect' - music for Henry VIII
Alison Crum & Friends play RJ viols